UPCOMING EVENTS
Saturday, January 12, 2019
TIME: 4:30 to 6:30 pm
WHERE: Music Block at Western Heights High School
Sunday, November 11, 2018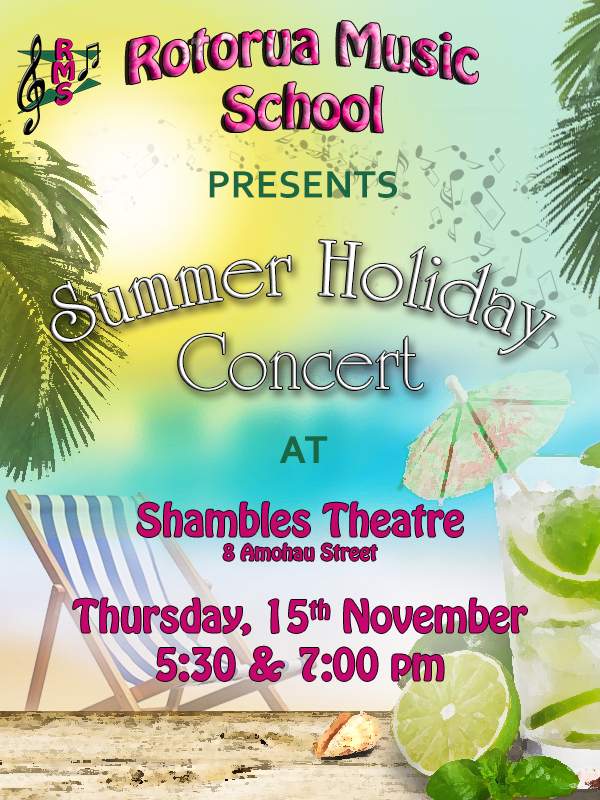 Wednesday, July 11, 2018
Kia ora tātou kātoa - Matariki arrived on June 15th and as we think about what this means - harvest and productivity, but also celebrations family and friends, music can play an important part and also needs to be nurtured.
Thursday, March 22, 2018
Kia ora tātou kātoa, nau mai, haere mai, welcome to Term 1! Amazing that autumn is upon us and we are most of the way through the first term already.
Thursday, June 22, 2017
Kia ora tātou kātoa, nau mai, haere mai, welcome back to another exciting term of music appreciation and practice. It is wonderful hearing our students develop and improve over time on their musical path. It can be hard at times to push through ennui - that feeling of 'what's the point' but it is just a phase we must persevere through to regain that satisfying feeling of developing musical ability.
Monday, March 20, 2017
Kia ora tātou and welcome to a new year of music and learning with Rotorua Music School. We hope you enjoy time spent learning with our tutors, practising your instrument and developing music for life.